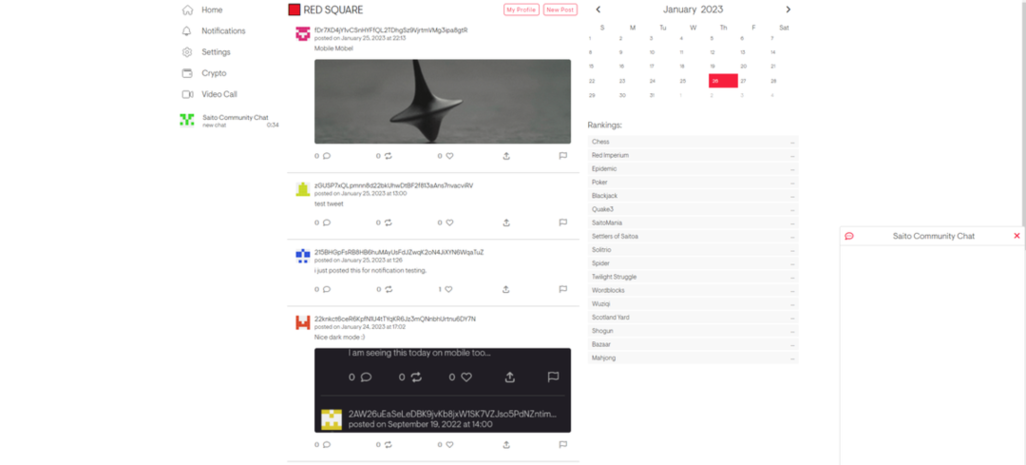 The Saito Arcade is an open-source game engine that runs as a fully-distributed peer-to-peer (p2p) blockchain application. All the games you can play run directly in the browser using p2p communications to send and receive game moves. Players interact only with each other - there is no central trusted server for deals or storing game data.
This is one of the first open-source software developed by the Saito team. It has been recognized by the Web3 Foundation as a standard for open cryptographic gaming. Also, the arcade works as a showcase for the games/app/chat/forum / AppStore / etc. These are all applications that run in the browser and send-and-receive on-chain data.
The new social media/main Saito apps hub
There is a good amount of games running on the Saito platform now, and more to come that are currently in development, some of them have been made for members of the community. With Saito being an open-source project that is delighted to receive apps from other developers to run them in the network, this is just the tip of the iceberg for what is to come.
The current list of games are:
Cold war-based card-driven strategy game for two players!
Texas Hold'em Poker for the Saito Arcade. Is one of the most popular variants of the card game of poker.
Chess the classic two players board game, is sometimes called International chess or western chess
Wuziqi also called Five in a Row, traditionally played with Go pieces in a 15x15 board.
Red Imperium is an open-source space-civilization game that uses the base mechanics from the utterly-epic 16-hour board game Twilight Imperium.
Card Battle game developed by the Saito community!
Quake3 is a multiplayer first-person shooter originally released by ID Software in 1999. This version runs directly in your browser and connects with Saito to use other Saito applications and bring modules right into the game.
NOTE: Quake 3 is owned by ID Software. This module is made available under an open source license. Your browser will use data-files distributed freely online but please note that the publisher requires purchase of the game to play. Saito recommends GOG.com for purchase.
A crossword puzzle game, spell out words on the board to earn points.
Explore the island of Saitoa, collect resources, and build your way to dominance.
Strategy deck-building game: acquire money and land to assert dominion over the realm.
The goal of Epidemic is for the players, in their randomly selected roles, to work cooperatively to stop the spread of four diseases and cure them before a pandemic occurs.